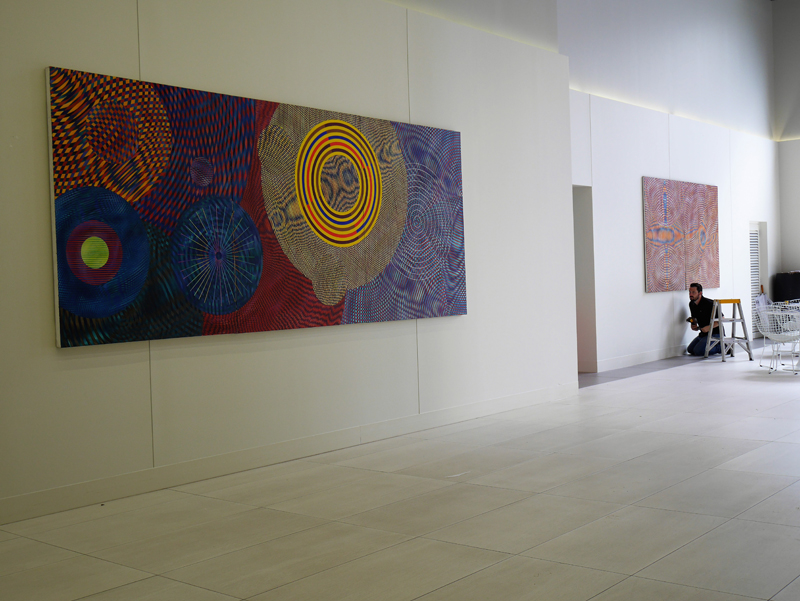 Recently, Corporate Art Rentals hung two very large artworks in the foyer of 580 St Kilda Rd, Melbourne. The building's owners wanted to enhance the look of their already impressive foyer, so they engaged Corporate Art Rentals to propose artworks for lease. Our art consultant, Dagmar Cyrulla, gave the client several options and they decided to hire paintings by the Melbourne and New York based artist, John Aslanidis. John's paintings demand attention and create quite a talking point. "For over twenty years artist John Aslanidis has defined a space between sound and vision, through seeking to create 'paintings you can hear and sound you can see'. His paintings take the form of numerous interlocking and exponentially expanding concentric circles that are painstakingly mapped and masked out, and evolve from an intersection between music and painting. (Excerpt from 'Sound Spheres' by Marguerite Brown, for Art Monthly Australia)."
We utilised the skills of art installation expert, Tom Ellis from Ellis Art Installation, to hang these large artworks. Hanging paintings may look easy, but we can assure you there is a lot in it and if you don't know what you are doing, not only do you run the danger of damaging expensive artworks, you can also damage a client's walls as well as hang the works out of alignment. We worked with Tom and was impressed by his care and expertise in getting John's paintings perfectly aligned at the right height and also securely fastened to the wall. Tom also uses 'lockable' fixtures to ensure that the artwork cannot be removed by the wrong person.
The end result looks magnificent and is another example of a business being transformed by hiring paintings from Corporate Art Rentals.